As the autumn leaves fall and the scent of pumpkin spice fills the air, the team at Product Advance is not just cooking up innovative websites but also sharing in some delicious fall recipes for success.
Join us in the Product Advance digital kitchens as we share our favorite Thanksgiving recipes to add a touch of delight to your online marketing this holiday.
1. The SEO Stuffing Surprise
Ingredients: Keywords, Fresh Content, Meta Tags – Kick off your Thanksgiving feast with a stuffing that's as stuffed with flavor as it is with SEO goodness. Our secret ingredient? A mix of carefully selected keywords, fresh content, well-crafted meta tags and top notch design. The result? A perfectly seasoned website that search engines and your visitors will gobble up!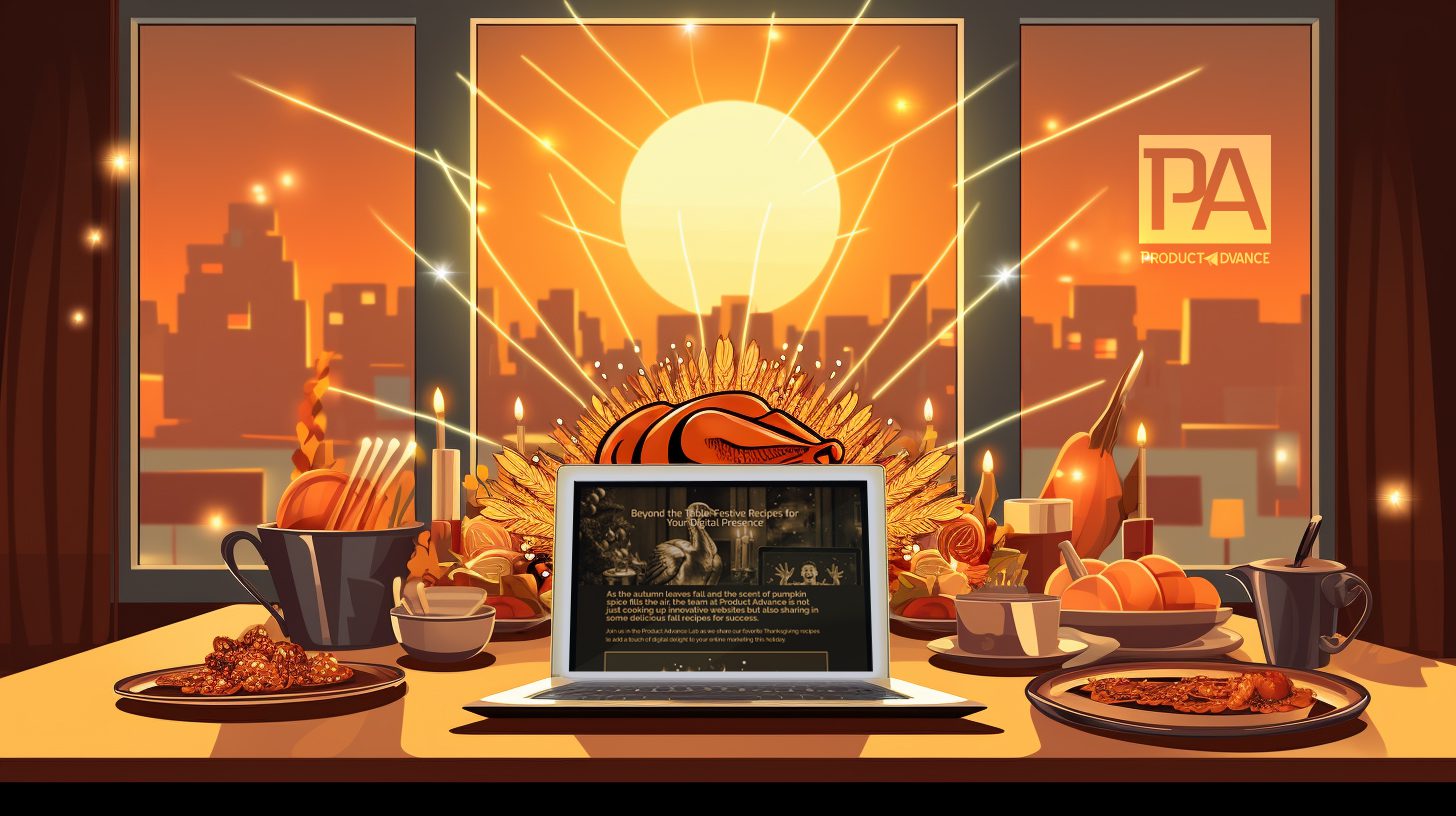 2. UX-A-licious Pumpkin Pie
Ingredients: User-Friendly Navigation, Intuitive Design, Responsive Elements and flexibility to deliver your content.  No Thanksgiving is complete without pumpkin pie and at Product Advance, we've baked up a UX-A-licious version. Our secret design recipe includes a dash of user-friendly navigation, a heap of experienced design, and a generous helping of responsive elements. The outcome? A website as delightful to navigate as a fork cutting through a warm pumpkin pie.  Easy to navigate websites generate more traffic, more conversions and more money for bigger turkeys.
3. Conversion Cranberry Sauce
Ingredients: Decades in Advertising and Marketing industry experience help our team craft Compelling Calls-to-Action and Persuasive Copy with A Pinch of Urgency.  Add zing to your website's conversion rates with our special Conversion Cranberry Sauce. . A dollop of this, and your website will be the talk of the table.  Engage more customers with creative campaigns and higher conversion rates.
4. Social Media Sweet Potatoes
Ingredients: Engaging Visuals, Shareable Content, Hashtag Magic – 
Our Social Media Sweet Potatoes are the talk of the town, or should we say, the timeline. Infused with engaging visuals, shareable content, and a sprinkle of hashtag magic, these potatoes will have your social media buzzing. It's the perfect side dish for a website that wants to be seen and shared. 
5. Website Analytics Gravy
Ingredients: Data Analysis, Performance Metrics, A Dash of Insight – Pour on the Analytics Gravy to give your website the finishing touch. Made with data analysis, performance metrics, and just a dash of insight, this gravy enhances the flavor of your website's performance. Know what's working, what's not, and how to make your digital feast even more satisfying all year round.
This Thanksgiving, as you gather around the table, savor not just the flavors of the season but the digital delights of your website's online success.
We believe in cooking up websites that are as delightful to experience as a Thanksgiving feast that indulges visitors 24/7 365.  If you want to improve your online success and the performance of your website, the first ingredient is Product Advance.
Cheers to a season of gratitude, innovation, and digital indulgence!